To make Gyokuro, a black cloth cover is put on top of the tea leaves
20 days before the tea plucking, which will suppress the
creation of tannin and hence contains more theanine, which are
the sources of good taste. To enjoy real taste of Gyokuro
you will first put gyokuro into the tea pot, and pour hot water in tea-cup
then pour back the cooled down-warm water into the teapot, and then serve
back into the teacup again.
Taste of tea is best if the color is pure green or pure yellow.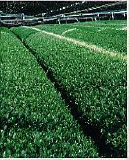 Gyokuro
Byakko
白虎
Seiryu
青龍
Suzaku
朱雀
1pack 100g
1case20packs


Premium Sencha
Asagiri
Uji-tawara
Chiran
Yame
Asagiri:
Tea of Kawane, Shizuoka. Has a deep taste and good scent. For those who like strong taste.
Ujitawara:
Gentle taste, best for those who dislike the bitterness. Has a very good taste.
Chiran:
Excellent scent with mild bitterness. Best for those who like green tea.
Yame:
Heavy Taste
It's like a full body of red wine. Best for those who want to enjoy it slowly.
1pack 100g
1cace 20packs

The deep steaming method receives a lot of attention as this method gets more ingredients green tea extracts, to be effective for maintaining health. The Kakegawa's method has been registered as GIAHS. The Kakegawa tea is characterized by the low bitterness for easy drink. Registed in Globally Important Agricultural Heritage Systems.(GIAHS)
Deep-steamed Sencha
Premiun Kakegawa
特上掛川茶
Kakegawa
掛川茶
1pack 100g
1pack 90g
1case 20packs
1case 20packs
Sencha
Oishii-ryokucha
おいしい緑茶
Satuma-kaori
さつまかおり
Ryokucya
緑茶
Powderd green tea
粉末緑茶
1pack100g
1pack40g
1case20packs
1case20packs

This tea is mixed brown rice & Japanese tea.
This is very popular for it's good fragrance..
Premium Sencha
Brownrice tea with
maccha
抹茶入り玄米茶
Brownrice tea
玄米茶
Powderd brownrice tea
粉末玄米茶
1pack130g
1pack50g
1case12packs 
1case20packs
1carton10cases